Definition:
What Is Blended Learning?
All of these practices involve learning, the concept of place or distance, and the use of technology. Whatever one chooses to call it, blended learning combines classroom and online education. And because of improvements in both school curriculum and digital technology, as a learning model, it continues to gain momentum. While education experts continue to debate the efficacy of hybrid learning, its existence has challenged them to re-evaluate not just technology's place in (and out of) the classroom, but also how to reach and teach students more effectively.
Types of Blended Learning:
Contributing Factors: Rise of digital and mobile learning technology
Related Educational Concepts: Project-Based Learning, Growth Mindset, Design Thinking, Robotics
Related Cultural Trends: eLearning and distance learning; the shift from 'television' to 'YouTube', growth of social media, working from home/remote offices
Blended Learning Tools & Resources: Google Classroom, YouTube, Zoom, Microsoft Teams, Skype, Moodle, Blackboard
Examples of Blended Learning: Students doing face-to-face group work in a classroom, then going home to analyze that work and turn in a video as an assessment form; taking a course online, then receiving face-to-face tutoring between online lessons
In the course of higher education, blended or hybrid learning is a snazzy, yet relatively new tool and not all professors use it the same way. Trends have emerged, however. For instance, most professors in blended classrooms use some version of a course management system application to connect with students online. Blackboard and Moodle are perhaps two of the best-known LMS applications used today but slowly are being supplemented–or bested–by cloud-based content and learning management systems. Through platforms like these, students can access videos of lectures, track assignments and progress, interact with professors and peers, and review other supporting materials, like PowerPoint presentations or scholarly articles.
Even if all professors used the same platform, however, they could each integrate them into their classrooms differently. According to a report on the subject by the Innosight Institute, professors could supplement traditional coursework with online media in the classroom, or simply alternate between online and classroom instruction. Perhaps one of the most recent–or at least most widely covered–hybrid teaching models is what Innosight calls the 'online driver' method, or, as it has come to be known, 'flipping.'
ADV & DISADV :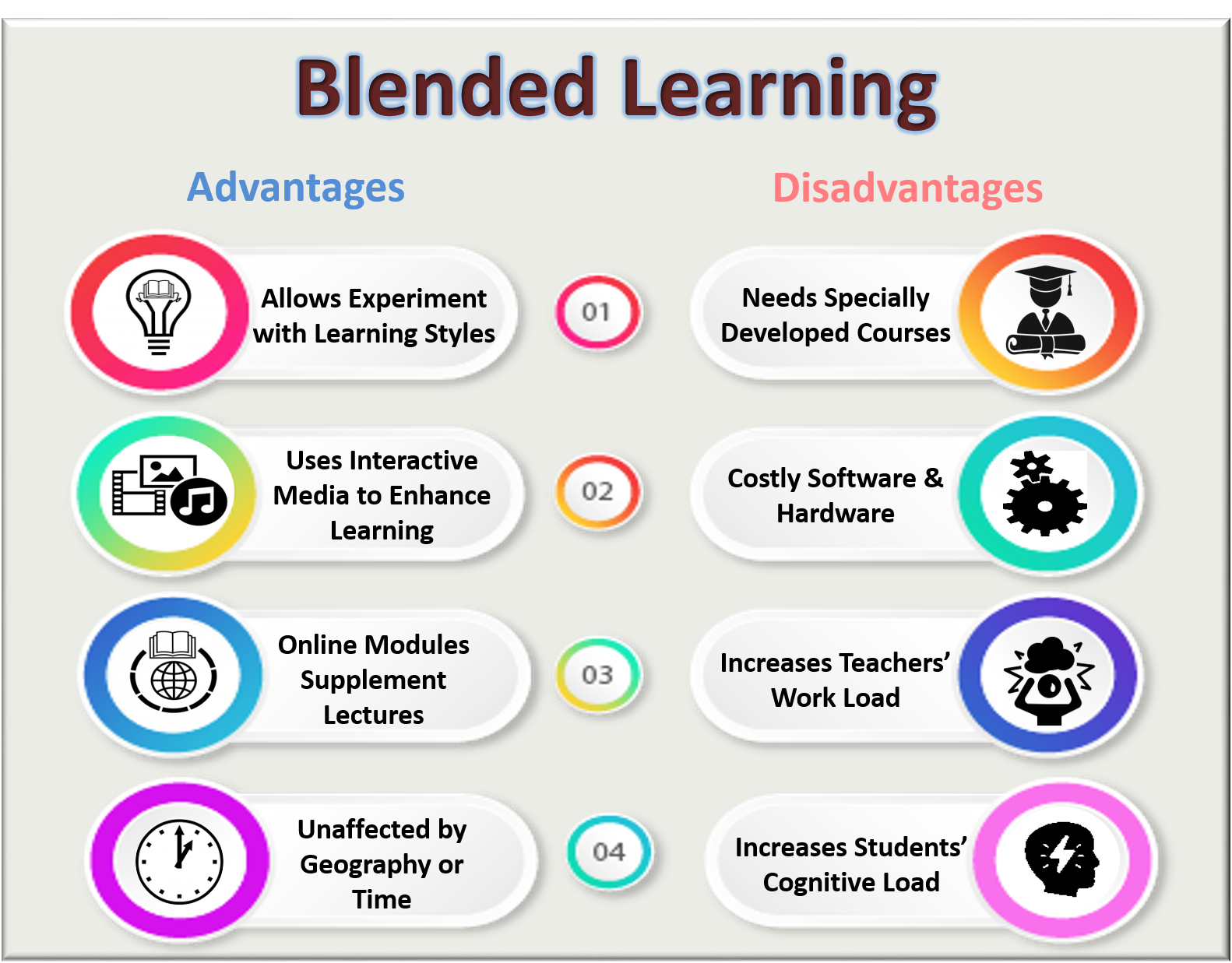 Why Blended Learning? 
In the past decade, teachers at higher and lower educational institutions have organically adopted blended learning as a meaningful learning tool in and out of the classroom. Luckily, corporate learning is catching up. The success of blended learning is due to five main benefits:
1. Accounting for Everyone
2. Lower Costs
3. Fun and Engagement
4. Reach and Personalization
Blended Learning Models:
When you're teaching a diverse group, it's almost impossible to tailor the learning experience to suit every learner—or is it? A blended learning model can help you personalize your subject matter for time considerations, learning techniques and even personal preferences, but implementing a blended learning model it requires big changes to how you think about training.
Take a look at some of these blended learning methods and see if they might work for you:
Face-to-Face: Traditional instructor-led learning sessions supplemented with technology to allow learners to control their own learning pace. Benefits are role-play, mentoring, hands-on practice, and feedback.
Rotation: Students go from one learning activity to another learning activity, either in a structured learning session directed by a teacher, or online in a self-directed manner. Examples include learning stations, labs, and the flipped classroom where learners practice the lesson before attending the face-to-face training.
Flex: Flex learning is a term that can be used interchangeably with personalized learning.  By accessing means of integration of learning in a Learning Management System (LMS.), the students control their learning path, choosing what they to learn. The instructor is usually present in a mentoring capacity, to answer questions.
Gamification: One of the most effective ways to motivate learners is by letting them play! By using game play elements such as points or levels,  learners feel a little competition and are more motivated to experience the material on their own time.
Online Lab: This blended learning model is entirely digit, with little or no instructor interaction, and takes place either before, during or after a training. Learners can access content on mobile phones, laptops or tablets. This modality engages and solidifies learning.
Self-Blend: It is supplemental content—either in the form of webinars, white papers, industry blogs, or video tutorials—that help self-motivated learners delve deeper into a subject. A robust LMS can combine diverse content sources under one system to encourage curiosity and growth.
Online Driver: This blended learning model is entirely self-directed and takes place in a digital environment. Learners can engage with an instructor through chat, email or message board. It provides a flexible schedule and personalized learning, but lacks the face-to-face interaction of other types of blended learning. An LMS is the best way to encourage users to direct their own learning while still monitoring their process as they enjoy media and eventually, engage in classroom discussion. You can choose from existing learning management systems or opt to have an LMS developed specifically for your purposes.
How to Get Started with Blended Learning:
Take a step back and consider what your training is providing, and what you want the learner to learn. You probably know this already, having developed instructor led sessions. Using your experience and the help of the instructors, ask yourself: Where are the problems?
Nearly every trainer will tell you there are aspects of their programs that are difficult—both for them and their learners. Think about dry, factual information such as technical specifications, compliance information, or a complicated series of steps that may require practice to master. This is your crack in the door: what can you take out of the instructor-led sessions and develop as eLearning so learners can learn and practice on their own time—and at their own pace?
Contemporary instructional designs approaches have developed some really interesting and engaging ways of making that assessment, making eLearning and instructor-led content excellent complements to each other.
Moving some course content to eLearning also benefits the instructor-led sessions, allowing instructors to concentrate more on the application of knowledge or on more complicated tasks.  The eLearning can provide the "what" while the instructor-led content can focus on the "how."
We suggest that you use a system that can track both offline and online training interventions, such as a learning management system that incorporates Tin Can API. You can set up such a system to take reports from instructor-led and online learning events equally, and develop a "report card" for each employee to track their learning interventions.
You're ready to start implementing your own blended learning program! Your learners will thank you for offering learning that works best for them.
Is There A Catch?
Of course, no educational model is one-size-fits-all, and some hybrid classrooms are probably more effective than others. According to a scientific literature review published by the Australasian Society for Computers in Learning in Tertiary Education, a number of factors impact the success of hybrid learning. Teachers must be committed to and well trained in blended and hybrid education and its technologies, and students must have a clear understanding of what is expected of them in this new environment.
CONCLUSION :
Blended learning is a learning process that combines face-to-face
learning with online learning to produce valid, effective and efficient learning.
Blended learning, one of the teaching model, mixed traditional methods of
teaching with an online courses for achieving specific learning goals. This
model can be used as a teaching media and an assessment. The tecahers as
facilitator helped students to develop their knowledge and their skill not as a
resource for students. In impelmenting Blended Learning, they were three
procedures were seeking of information, acquisition of information and
synthesizing of knowledge.